Fresh food delivered from Church farm to your door!
Choose free-range meat, vegetables, fruit, free-range eggs and more. 
Free Friday delivery to Letchworth, Stevenage, Hitchin, Ware, Hertford, Buntingford, Welwyn, Royston, Harpenden, Biggleswade, Bishops Stortford and all villages in between or within 15 miles of the farm. 

Watford Area : order a weekly box for Friday pick up from Aldenham Country Park, Free parking for Box scheme customers pick up and enjoy the park.

You do not need to be at home to receive your Farm Box, just let us know a safe place to store it. 

Easily Choose Frequency, changes & suspensions

There's no contract or commitment, you can order weekly or fortnightly, or 'as and when' you want! There's no cancellation charge for holidays etc. Please let us know of any changes or cancellations before 11am on Wednesday.

After you buy your first box you will receive log in details to a "Farm Bucky Box" account where you can add extra / change or remove items or pause and resume a regular order. Any questions please contact us on 01438 861447 or email This email address is being protected from spambots. You need JavaScript enabled to view it. . You can come and visit the farm and see how your food is grown and prepared anytime.
All Box Scheme customers are invited to come for a tour of the farm to meet the horticulture team, butchers and see the provenance of our food. If you would like to come along please email This email address is being protected from spambots. You need JavaScript enabled to view it. 
To choose a box tailored for you just email us at This email address is being protected from spambots. You need JavaScript enabled to view it., call us on 01438 861447, pop into a Church Farm store or click below to book online. Thank you for your support of really local food and farming.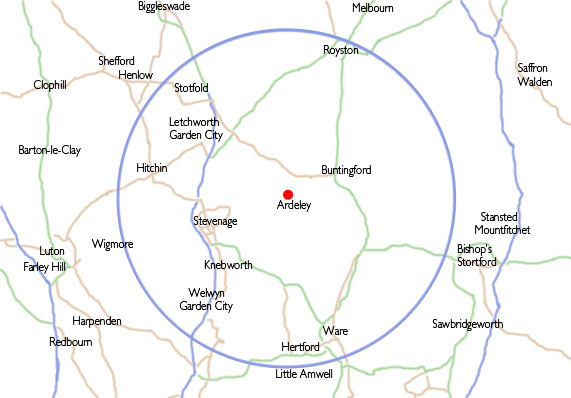 Delivery within:

15 miles  

 

Free delivery every Friday to Letchworth, Stevenage, Hitchin, Ware, Hertford, Buntingford, Welwyn, Royston and all villages in between as shown within the blue circle. Minimum spend £20.00

 
 
 

15 miles

 

Free delivery on Fridays to locations just outside of the blue area - Harpenden/Biggleswade/Bishops Stortford, or within 15 miles of the farm. Minimum spend £20.00.

 You do not need to be at home to receive your Farm Box, just let us know a safe place to store it until your return. 

| | | |
| --- | --- | --- |
| Watford  |   | Pick up your weekly box from Aldenham Country Park, we deliver every Friday. Free parking for Box scheme customers.  |

 

 
Frequency, changes & suspensions

There's no contract or commitment, you can order weekly or fortnightly, or 'as and when' you want! There's no cancellation charge for holidays etc. Please let us know of any changes or cancellations before 11am on Wednesday.
When you sign up to a box, you will receive log in details to your very own Bucky Box account where you can control your farm box deliveries - add extra / change or remove items or pause and resume a regular order.
We are always happy to hear from you on 01438 861447 or email This email address is being protected from spambots. You need JavaScript enabled to view it.


No cancellation charge and a full refund if not 100% satisfied!